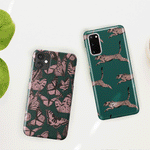 Become one with the animal kingdom with our new animal collection 🐅 These beautifully illustrated designs are perfect for any animal lovers and those who want to add a bit of the natural world to their technology. 
Our new range includes iPhone, Samsung and Google Pixel phones, wallet cases and 13-inch laptop sleeves.
All our designs are illustrated in house and you won't be able to find them anywhere else. Take a look below at a closer look at our new collection. 
Running Cheetah 
Our running cheetah design is perfect for any cat lovers out there who want to show off their wild side. This minimalistic design is perfect for those who want to add a unique but subtle touch to their tech.
Butterflies 
Our butterflies design is a beautiful ode to the mystical and beautiful symbolism of butterflies. They symbolise the courage and determination of change and new beginnings. Perfect for those who need a positive reminder that good things are coming their way. 
Stay tuned for more exciting and unique collections coming soon. 
Remember to subscribe to our newsletter to get the latest news on our collections and exclusive discounts
here