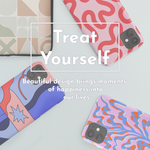 Treat Yourself: Show yourself some love today ♥
"Carve out and claim the time to care for yourself and kindle your own fire."
― Amy Ippoliti
Self care is so important. We're sure you all know that. In the past year, it's been difficult to find happiness amongst the constant bad news. That's why it's more important than ever to take care of ourselves and create our own small moments of joy. However, not only for us but for family and friends as well. 
This is why we have created our Treat Yourself campaign. We think it's important to treat yourself or a family or friend to something special. Creating happy moments through beautiful design, accessories and gifts is one way of creating memories and adding some colour to our lives. 
Head over to our curated Treat Yourself edit where you'll find our new geometric collection alongside Harper & Blake classics which we believe will add a touch of joy to your everyday life. To make it even better, we've added a 10% discount on these items and a further 15% if you buy two or more. ♥ (one for you and another for a friend! Or two for you ♥)
Follow the link the below to explore our edit and treat yourself or a friend to a small moment of happiness. 
Shop the Edit 
Stay tuned for more exciting and unique collections coming soon. 
Remember to subscribe to our newsletter to get the latest news on our collections and exclusive discounts
here