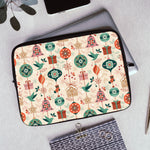 Winter Tech Accessory Designs | 5 Perfect Prints for the Holiday Season
Are you looking for a new phone case for the winter season? We've got you covered. Our vast range of designs and colours will suit anyone's preferences and make you turn heads in the festive winter season. Our stylish prints and tough, secure phone cases and laptop sleeves will give your tech the protection it needs without compromising on style.
See our Winter edit below to find your next perfect phone case or a perfect gift for that special someone this Christmas season. 
Classic Christmas Prints
Want to keep it traditional this winter season? Do you love baubles, candy canes, gingerbread houses and everything Christmassy? Our Christmas at Home print by Daniela Friedenthal is perfect for festive lovers. Filled with traditional Christmas colours and elements, this print is bound to get you into the festive cheer.
For the Old Soul Vintage Lover 
Are you or a friend a fan of traditional, vintage Christmas designs? This beautiful Merry Christmas Deer print by Deinki takes inspiration from beautiful historical Christmas cards and prints and takes it right to your phone case. 
The beautiful teals are accompanied by beige hearts and cute deer, it's a perfect print for those who love traditional, retro design.
Nordic Winter Vibes 
Love winter and Christmas but want to keep your phone case design all year round? This cosy chalet print by Mirabelle Print showcases the beauty of Winter without anything too Christmassy. Beautiful log cabins, pine trees and cute winter animals make this print perfect for all year round while you wait for the winter season. 
For the Animal Lover
Looking for a gift for an animal lover or you're an animal lover yourself? This bullfinch print by Pip&Lo is perfect for the winter season. With adorable bullfinch birds and stunning winter trees, this print is bound to get you excited about the snow and seeing all the adorable winter birds. We love the bright contrast between the dark blue winter sky and the bright red burst of colour from the bullfinches. 
Flower and Plant Lover 
Botanicals and flowers are timeless prints and perfect all year round. However, what about a more wintery and festive floral print? This beautiful snow flower design by Linn Warme has beautiful wintery blue base colours and gorgeous white art nouveau-inspired vines, leaves and flowers. This print is ideal for those who love snow and beautiful botanicals. 
Here at Harper & Blake, we have a wide variety of phone cases for the latest iPhone and Samsung Galaxy phones in bright and colourful designs. 
Shop our range of iPhone and Samsung Galaxy phone cases here