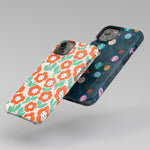 Best Phone Cases for iPhone 14
The iPhone 14 range is out and it's one of the best phones right now on the market. Therefore, you probably want to protect your brand-new phone the best you can. Still can't decide which iPhone 14 phone to get? See our guide here. 
With our phone cases being made to order, we offer a wide range of iPhone 14 phone cases in a vast range of designs to match your unique personality, style and tastes. 
We have phone cases available for the iPhone 14 series in tough, slim, eco and wallet phone cases. Best of all, all our designs are available for both slim phone cases and tough phone cases so you don't have to compromise protection for beautiful design.
See our new iPhone 14 edit below to find the right phone case for you. 
For the Cute Floral Lover 
Looking for something cute, colourful and floral to brighten up your idea? Our Flowery phone case by designer Sandra Hutter is perfect for you. The cute pop of colour from the florals, with the more neutral background colour, makes it the perfect phone case for those who want to add a touch of colour to their lives. 
For the Night Sky Lover 
Ever wanted to visit outer space? Now you can with our Planets phone case by designer Tara Reed. This beautiful design is ideal for any lover of the stars, space and the great beyond. The pop of colour from the planets and the sparkles of stars in the background add a lovely touch to the design. 
For the Eco-Conscious 
Created to minimise our environmental impact, our eco-friendly phone cases are fully biodegradable. Our bamboo phone cases are perfect for those who are a bit conscious about their carbon footprint. With a range of unique designs, now available for the iPhone 14 and with more designs coming soon, there's no better time to switch to bamboo. 
For the Minimalists 
Are you more of a minimalist who likes things simple with less clutter? Why not add the same mentality to your phone case? Our Boho Moonlight phone case by artist Katerina Tova is an elegant addition to your tech accessories. With a simple white background and adorable bohemian watercolour moons, add that extra cuteness to your tech.  
For the Animal Lover
Are you obsessed with animals? We are too. Why not show your love for wildlife with our adorable Toucan Fruit Mix phone case by designer Lidia Snitsar. This tropical print is sure to put a smile on your face with exotic toucan birds, various fruit and luscious monstera leaves. Why not bring summer with you everywhere you go?
With a wide range of designs to suit everyone, there are protective and stylish iPhone 14 phone cases for everyone. Don't have an iPhone 14? We do Samsung Galaxy phone cases too and have a large range of old iPhone phone cases available too! 
Shop our range of iPhone and Samsung Galaxy phone cases here