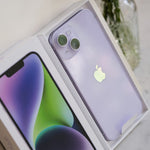 Which iPhone 14 is best for you? A Comparison Guide
With the new Apple iPhones out, there's always the yearly decision of "should I upgrade?" and even "there are four different iPhone 14s? Which should I get?"  With the iPhone 14, the iPhone 14 Plus, 14 Pro and the 14 Pro Max, it can be a tricky decision. We're here to help. We've done a bit of research and decided to break down the different phones available in the iPhone 14 series to help you pick the right phone for you. 
Photo by Thai Nguyen on Unsplash
Price
Price can always be a deal breaker for you and we won't lie, the iPhone 14 series can get expensive and prices vary on how much storage you'd like. The regular iPhone 14 starts at £849 for 128GB and can go up to £1,179 for 512GB. The iPhone 14 Plus starts at £949 for 128GB and goes up to £1,279 for 512 GB. 
The iPhone 14 Pro and Pro Max give you the option of having 1TB of memory with a whopping cost of £1,749 for 1TB for the Pro Max. 
Depending on how much storage you use, having these extra GB can help a lot if you store photos, videos and music. However, if you rely on cloud storage, 128GB should be sufficient. 
Display and Screen Size
Depending on how much you use your phone, staring at it or what you use it for can determine what display and screen size would be good for you. 
The iPhone 14 and iPhone 14 Pro have 6.1-inch screen sizes and the iPhone 14 Plus and iPhone 14 Pro Max have 6.7-inch screens. All of the phones include a Super Retina XDR display. 
If you use your phone for gaming or spend a lot of time watching media, the larger screens are for you. If you're a true mobile gamer, the Pro Max will be ideal for you with its high refresh rate. 
If you're not too picky with display and screen sizes, the iPhone 14 will be an ideal pick for you. However, the best way to see which size is best for you is to go into a store and see which feels nice in your hands. 
Cameras
If you're a photographer, content creator or influencer, your phone camera is extremely important to you. Then it's no surprise that the iPhone 14 Pro and Pro Max have the best cameras on the market right now. The main back camera features 48MP and 48MP in RAW and a 6x optical zoom range. However, this doesn't mean Apple missed out on the iPhone 14 and 14 Plus. These still include an improved 12MP ultra-wide camera.
However, if you still like taking nice photos and are not fussed about specifics, the iPhone 14 and 14 Plus are right for you. 
Battery Life
Battery life is important for all of us and the iPhone 14 series brings a better and longer-lasting battery for all models. Like the previous iPhone 13 series, all models can be used for MagSafe, wireless and fast charging.
Apple states that the iPhone 14 can go up to 20 hours of video playback, the 14 Plus 26 hours and a great 29 hours on the Pro Max. If you use your phone a lot and are worried about battery, the iPhone 14 Pro max is for you. However, all models include long battery life in comparison to the iPhone 13. 
 What iPhone 14 should I get then?
Which iPhone 14 you should get will vary from person to person. The iPhone 14 will be a good upgrade for people who use the previous iPhone 13 Mini and 12 Mini and want a new reasonable upgrade. The iPhone 14 Plus is perfect for people who watch a lot of media on their phones. In addition, users who a power heavy and want all the technical features should opt-in for the Pro and Pro Max. 
Whatever phone you get, we have phone cases available for the iPhone 14 series in tough, slim, eco and wallet phone cases. Best of all, all our designs are available for both slim phone cases and tough phone cases so you don't have to compromise protection for beautiful design.