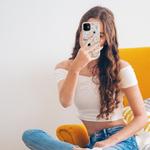 Phone Case Fashion: Matching Your Case to Your Outfit
Anything can be a fashion accessory these days and that can include your phone case. With a wide range of designs, colours and styles to fit your own, you can complete your outfits with matching phone cases. Imagine the impact of matching your phone case with your outfit that emits your personal style. Not only will it make people turn heads on the street but also level up your mirror selfies for your social channels. On the blog this week, we'll explore the art of matching your style to your phone case and some great tips on how to achieve that. 
Colour Combinations 
Colour is a huge part of how to coordinate your outfit and this also includes your accessories and therefore your phone case. Think about what colours you normally wear and pair your phone case with it! For a safe bet, any neutrals would work with most outfits if you like to keep it simple. If you like experimenting with colour why not think of popular colour combinations that are in style these days? Pink red and yellow and lilac with Y2K-inspired looks always look eye-catching and fun. 
Photo by AROMATEEC on Unsplash
Be Minimalist
Sometimes simplicity is key and you don't want to add too many colours or patterns to your look. Less is more as they sometimes say and just a simple design or plain colour can take your outfit to the next level. Plus, these can be more versatile and be a staple all year round. If you like the minimalist aesthetic then find a beautiful simplistic design but if that's not your thing then...
Push boundaries 
Why not step outside the box and explore patterns and colour? Don't worry about other things and show off your wild side. Mix and match colours and patterns if it works for you and be an explosion of colour. If colour makes you happy then why not embrace it? Dopamine dressing is very much a thing and we believe that dressing and accessorising the way you want to will make your day that little bit better. 
Adapt to the Seasons 
As the seasons go by in the year so does what we wear and the colours we choose. This is also important to reflect in your accessories! Stick to warm Autumn colours for Autumn and red, greens and gold for winter and the Christmas period. Bloom into spring with beautiful pastels and go bright and colourful for summer. 
Whether you want to stay part of the trend or choose your own style away from the mainstream; here at Harper & Blake we have phone cases for everyone. From neutral minimalist prints to bold and colourful. We're sure you'll find something you love. We have a wide variety of phone cases for the latest iPhone and Samsung Galaxy phones.
Shop our range of iPhone and Samsung Galaxy phone cases here