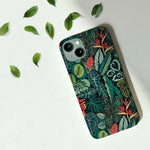 Where to find and buy unique phone cases
Protecting your phone is the most important part of a phone case. It helps protect it from bumps, drops and scratches and prolongs its lifespan. Furthermore, some phone cases offer extra features such as better grip and card holders.
However, here at Harper & Blake, we also believe having a phone case that shows off your individuality and personal taste is vital. We believe in making the everyday beautiful and why not do that with your most important accessory, your phone?
We think you shouldn't have to compromise between design and durability so we combined them in creating tough and long-lasting phone cases with unique and bold designs.
Keep on reading to find out about all our unique designs and how we offer a design that suit everyone's style
The Minimalist 
Do you prefer the simple things in life? Our modern minimalist flower print is perfect if you feel calm in clean, neat places. Enjoy the simple yet effective line art design of these wildflowers mixed with a relaxing pastel mint background. 
The Mystic 
Love all things mystical and magical? Love purple tones and celestial motifs? This Equinox print by Seek to Spring is perfect. We love the mosaic design on the sun mixed with a warm purple background. Appreciate the beauty of the sun with this print. 
The Plant Lover 
Crazy about plants? We are too. There's something so beautiful about the stunning shapes, colours and patterns in nature and this print by Freya's Prints demonstrates that. The range of green shades with pops of red really brings this design together. 
Modern Art Enthusiast 
Are you an artist? Enjoy shapes and modern art movements? This Matisse-inspired print by Ayeyokp is for you. Taking inspiration from Blue Nudes by Henri Matisse, we love this simple and effective design. So why not take it with you to your next art gallery trip? 
All About Animals 
Are you a maximalist and want bold prints, colours and elements all in one place? Do you also love animals? Well, we found the print for you. This busy animal print design ticks all the boxes if you want a print that will turn heads as you walk down the street. 
The Sustainable One
Want to change style often but feel bad about swapping phone cases too often? Our eco bamboo cases are for you. Fully biodegradable in 90s days, these bamboo phone cases break down in landfills naturally. We have a range of designs for everyone including this relaxing print by Ani Vidotto. 
Here at Harper & Blake, we have a wide variety of phone cases for the latest iPhone and Samsung Galaxy phones in bright and colourful designs.
Shop our range of iPhone and Samsung Galaxy phone cases here