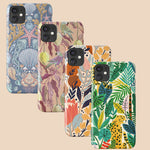 Harper & Blake x Artist Collaborations
We at Harper & Blake are all about making the everyday beautiful with unique, colourful and bold fashion accessories such as iPhone and Samsung Galaxy phone cases. With our large variety of designs, ranging from classic abstract prints, cute animals to mystical witchy patterns, there's something for everyone. 
With our love of art and design, we've decided to put together a collaboration program to help what we love best while also supporting independent artists. We believe in showcasing beautiful art so why not do that with artwork of artists you love? 
We already have set up artist collaborations with the talented Maria Galybina and Rebecca Elfast 
Maria Galybina is a talented designer known for her bold, tropical and colourful prints. We love eye-catching colourful prints and if you love the same, her collection is perfect for you. 
Rebecca Elfast is an accomplished pattern designer with a wide range of unique, beautiful and playful prints. We love intricate details and detailed patterns and if that's your cup of tea, why not take a gander at her collection?
We're always looking for new artists to collaborate with so if you're a designer why not drop us an email through our contact form and we'll give you more details and maybe you'll have a chance of having your designs up on our website! 
Here at Harper & Blake, we have a wide variety of phone cases for the latest iPhone, Samsung Galaxy and Google Pixel phones in bright and colourful designs. Best of all, all our designs are available for both slim and tough cases so you don't have to compromise protection for beautiful design. 
Shop our range of iPhone, Samsung Galaxy and Google Pixel phone cases here