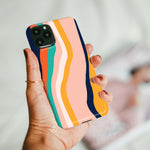 Which iPhones work with wireless charging?
Wireless charging has been around for a while and is an added convenience for a lot of us. Just putting down your phone on a charging mat with the fuss and hassle of cables makes it that little bit easier. Intrigued about wireless charging and if your iPhone is compatible? Read more in our blog this week. 
What is wireless charging?
Wireless charging, also known as inductive charging, is an easy and wireless way to charge your phone and other electronic devices. It works by transferring energy between the charging mat to a receiver at the back of your phone through electromagnetic induction. These normally only work when both your phone and charging mat are nearby of each other and aligned correctly.
MagSafe is the name of Apple's wireless charging accessory and is used for their iPhone, Air Pods and MacBook. It uses a magnet to connect the charger to your device and keeps it secure and safe whilst charging. This magnetic connection is only available for the iPhone 13 at the moment. 
What do I need for wireless charging?
All you need for wireless charging is an iPhone that's compatible with it and a wireless charger. Apple has their own wireless charger you can buy called MagSafe, which is available over on their website. However, there is a range of wireless chargers you can buy to fit your needs such as one that sits upright, one that charges multiple devices at once and more. 
All you need to do is plug in your wireless charger and place your phone on top in the middle of the charging pad and that's it! You'll know it's working once you see your iPhone light up after a few seconds and the charging symbol appears. 
Photo by Pontus Wellgraf on Unsplash
Which iPhone support wireless charging?
When Apple released the iPhone 8, they changed the back of the iPhone to glass rather than metal meaning it would be compatible with wireless charging. 
If you're unsure if your iPhone supports wireless charging, take a look at our list down below: 
iPhone 13 series

iPhone 12 series

iPhone SE (2nd/3rd generation)

iPhone 11 series

iPhone XR

iPhone XS and XS Max

iPhone X

iPhone 8 and 8 Plus
It's safe to assume that any future iPhone release will support wireless charging as well. 
What's the difference between regular wireless charging and MagSafe charging? 
Wireless chargers often offer up to 7.5W speed for fast charging and 5W for regular charging. However, there's an exception with Apple's MagSafe charger. If you have an iPhone in the 13 series, MagSafe offers up to 15W of fast charging as well as a safe and sturdy magnetic connection. 
At Harper & Blake, all our phone cases are compatible with wireless charging and MagSafe, just without the added magnet. These include our tough and slim phone cases, wallet phone cases and our eco bamboo phone cases. 
Shop our range of iPhone, Samsung Galaxy and Google Pixel phone cases here