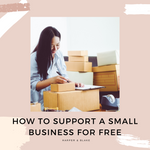 How to Support a Small Business for Free | Harper & Blake
Over the past few months and years, it's been more important than ever to support your local small businesses. Small businesses fuel the local economy, provide jobs and keep those unique businesses alive. Your money keeps those shop owners dream's alive and helps them bring food to the table. 
A small business presence is essential to its local community, both offline and online and they bring a breath of fresh air to the mass market produced products we see from big corporations. 
It's been difficult for the past year for a number of businesses and individuals but there are ways we can continue to support them over the coming months and years. Keep on reading to see our tips for supporting your favourite small shops for free ⬇
Follow their Social Media
Many small businesses rely on their social media accounts to get sales, increase their presence and build a community. Having a larger following on sites such as Instagram and Facebook makes them stand out more against others and help them grow. It is increasingly difficult to do so when competing with massive corporations but with more followers, this may help these small accounts flourish and gain more customers. 
While followers don't mean everything, having a substantial following can increase engagement, being able to use the swipe up feature on Instagram and gain connections for wholesale opportunities. 
Recommend to Family and Friends 
There's nothing easier than showing your support by recommending through word of mouth. Tell your friends and family about your recent small business purchase or something from your wish list. Who knows, maybe they'll fall in love with their products and business too! 
Write a Review
Reviews are one of the most important indicators for a customer when making a purchase. Good reviews show that their business is a trusted place to buy from and their products and service are of high quality. 
Write a review over on their social media, website or on Trustpilot and Google so they can also share your loving thoughts with their audience. 
Sign up for their newsletter
Why not sign up for their newsletter so you can be the first to hear exclusive news, offers and what's arriving soon. Subscribing to their email newsletter is an easy way to support the business and a great way for their shop to succeed and thrive. 
Leave a Nice Comment or Message 
Leaving a nice comment on their latest Instagram post or sending them a private message is a great way to brighten up a business owners day. Plus, other protentional customers will see your kind words on posts and maybe persuade them to give them a follow or a purchase. 
Remember to stay in touch to see what's coming soon from Harper & Blake. 
Remember to subscribe to our newsletter to get the latest news on our collections and exclusive discounts here