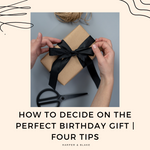 How to Decide on the Perfect Birthday Gift | Four Tips
Did you know September is the most common birthday month? Get ready for a party filled month with our tips on how to decide on the perfect birthday gift for your best friend, sister, dad or partner. 🎁
Remember, a small meaningful gift can be better than a big expensive show off a present that doesn't mean anything. It's a good idea to think about who you are gifting for and to focus on what that person loves and how we can make the people we adore happy. 
1. Solve Problems 
We all have issues and problems in our day to day lives, so why not solve your loved one's problems with a gift? We want to make our loved ones happy so what's better than helping them with their daily issues? Some examples include:
Blunt knives? Buy a new knife set or beautiful whetstone 

Problems sleeping? Maybe a soft satin eye mask or fancy pillow spray

Always dropping their phone? Why not a tough durable phone case?
These gifts are a lot more personal and thoughtful than just a gift card or some flowers.
2. Make it Thoughtful and Sentimental 
Nobody knows the recipient better than themselves so there's no harm in even asking what they want! Even though it may not be a surprise, it shows you listened and understood what they wanted. It's the thought that counts. 
Want to add a bit more sentimental value to a gift? Why not personalise it with their favourite colour, initials or a special date related to you both.
3. Relate it to their Hobbies and Passions 
It always helps if you know that person's likes, dislikes and hobbies. It's much easier to find a gift for a foodie, animal lover or green-fingered friend. Why not buy a recipe book for your baking friend, a cute laptop sleeve with their favourite animal or a botanical themed illustrated phone case for those plant lovers? 
4. Wrap it Well 
Wrapping gifts is hard, we've all been there. So why not improve your wrapping gifts? There are tons of guides, videos and tutorials online and a well-wrapped gift is always better than a messy one! Here are some ideas:
Can't wrap to save your life? Buy a beautiful gift bag instead and fill it with colourful tissue paper and confetti 

Buy plain kraft paper rolls and draw your gift wrap designs yourself! 

A lovely handwritten thank you note always add an extra special touch to your gift 
Gifting is hard, we don't deny it but we hope our tips helped you think of some great gift ideas for those loved ones who can be difficult to buy for sometimes. Still, stuck? Why not take a look at our gift collection page on our website and find beautiful phone cases and laptop sleeves for your friends and family.