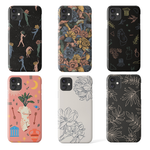 New 2021 Spring and Summer Arrivals
Say hello to our new 2021 Spring and Summer arrivals! Our designs this season focus on beauty, elegance and ethereal aspects of mythology, nature and magic. 
Botanical Collection
Our botanical collection takes inspiration from classic botanical illustrations which adds a touch of elegance to your tech accessories. The subtle colours and line art design makes this a perfect choice for any minimalist out there. 🌿
Ancient Greece 
Time travel back to Ancient Greece with our Mythology collection. Inspired by the statues, art and stories of Ancient Greece, stand out with these bold yet subtle cases and sleeves. Perfect for any budding historians and classical lovers out there. 🏛
Magic Escapism
Escape to another world with our Magic Escapism collection. Inspired by fairy tales and Midsummer Night's Dream, add a touch of mysticism and magic to your life. These elegant and detailed designs are perfect for any maximalists out there 🔮
You can take a look at all of our new additions here and be sure to stay tuned for any new arrivals and collections over on our social media and newsletter!