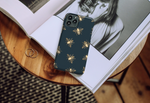 Christmas Gift Guide – Small Business Edition
If there's one thing we can do over the next few months to make sure our favourite brands make it to the other side of the pandemic, it's to ditch Amazon and shop independent this Christmas. Make your gifts really count this year by supporting small businesses.
Here are some of our top picks from our favourite indie businesses to get your gift inspiration flowing.
1. Bubbly Wine from The Uncommon, £42 for eight cans
The Uncommon is a wonderful English wine brand. Sustainability is at the heart of everything they do, so their sparking wine is canned, and it's all made within 25 miles of London! What better present to give this Christmas than a mixed crate of bubbly white and rosé wine? Surely beats a selection box.
2. Winter Karma Candle from Beefayre, £20
We love a good candle in the colder months. This one is from Beefayre, a company inspired by nature and the plight of the honeybee. All their candles are made from natural plant wax and they smell wonderful! The 'Winter Karma' scent is made up of magnolia and sandalwood infusions, which helps to enhance meditation, removing negative energies from the room. Who doesn't need an opportunity to unwind after the year we've had?!
3. Rock Paper Scissors Tote Bag from Papersmiths, £15
Papersmiths is a London based shop/online retailer that features the best stationery from designers all over the world. We love this practical yet bold tote. It's made from heavyweight cotton canvas and features a handy external pocket for your pens and Oyster card – handy! It'd make the perfect gift for that friend who's always on the go.
4. Ethical Gift Box from Borough Box, £34.99

This gift box is a fab mix of ethically sourced treats, so it's perfect if you can't decide on just one gift! It includes nine divine food and drink items ranging from a bottle of lager from Brewgood (a company that supports access to clean water with their profits) to a jar of honey from Bermondsey Street Bees (a brand that's passionate about happy bees producing honey sustainably). This box is ideal for someone who likes to buy conscientiously!
5. Natural Flax Linen Eye Pillow from Made By Coopers, £15

This eye pillow is made from dried lavender petals and natural flax linen and is great for yoga, meditation, relaxation and sleep. It feels lovely on sore, overworked eyes and has a soothing lavender aroma. You can heat it up in the microwave to relieve tension around the eyes, or pop it in the freezer to ease puffiness. One for the overworked people in your life!
6. Rose Bath Salts from the Kentish Soap Co., £8
The Kentish Soap Company is a small family run business in Kent. All their products are handmade in small batches, using no artificial colours or fragrances! We love these relaxing rose bath salts. They're rich in minerals, providing a nourishing treat for the skin.
7. Coconut Shaving Soap from the Wriggly Tin Company, £10
The Wriggly Tin company is a Stoke based company that makes vegan, cruelty free, natural soaps. This shaving soap is the perfect treat for men and women alike. It's made from coconut milk, which is high in Vitamin E and soothes dry skin, small cuts, burns and rashes, making for a super smooth, indulgent shave.
8. Phone Case from Harper & Blake, from £20
Check out our phone cases! We have over 100 designs to choose from, so there really is something for everyone. We have all the latest models in stock for iPhone, Samsung and Google Pixel.