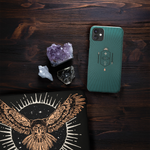 New Mystic Collection 🌙⚔️
We've cast a spell on our latest magical and mystical collection 🔮✨ Inspired by symbolism and traditional tarot card designs, we've created a range of beautiful designs for any lovers of the whimsical and wonderful. 
Our new range includes iPhone, Samsung and Google Pixel phones and 13-inch laptop sleeves.
You can't find our unique designs anywhere else and we want you to be able to express your interests, personality and individuality through your accessories and tech! 
Mystic Eye Symbol 
Our mystic eye symbol is perfect for any minimalist out there who wants to add some magic to their life. Inspired by traditional tarot cards, this line art design includes pops of gold which gives the phone case an added touch of luxury. 
Mystic Owl
Owls, often associated with magic and wisdom, are a perfect addition to our mystic collection. Keep it more minimalist with our phone case design or take it all out with our wallet and laptop design with a beautiful full spread illustration. 🦉
Seamless Mystic Eyes 
Our seamless mystic eye collection is inspired by tarot illustrations and is a full pattern version of our mystic eye illustration. The beautiful line art design and touches of bronze gives it a magical yet modern feel to it. 
Stay tuned for more exciting and unique collections coming soon. 
Remember to subscribe to our newsletter to get the latest news on our collections and exclusive discounts
here