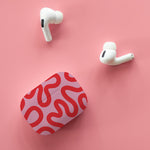 Why you Need an AirPod Case
You've just bought a brand new pair of AirPods and you're wondering if you need a case for them. As for your phone, it's always good to protect your tech since it reduces to risk of damage from drops, scratches and dust. It gives your AirPods a longer life and reduces e-waste overall. Still not convinced? Read on to find out why we think buying an AirPod case is a crucial investment. 
Protection 
One of the main reasons people buy an AirPod case is for the added protection. After carrying around your brand new bright white AirPods for a while, you may seem to notice scuffs, scratches and dirt. An AirPod case can protect against external damage and minimise dirt and dust reaching your AirPods and any ports. 
Our AirPod cases at Harper & Blake are made from impact-resistant polycarbonate which helps absorb damage from drops and impacts. Without a case, dropping your AirPods on a hard surface can not only cause dents but internal damage as well. This is important especially if you're clumsy! 
Loss Protection
AirPods are small and can be easily lost if you're absent-minded. One of the best parts of our AirPod cases is that they offer a loop for a keychain and a carabiner clip. This handy clip can latch onto your keys, belt loop or bags. This also helps you gain easy access to your AirPods without spending time finding them at the bottom of your bag. Furthermore, attaching your AirPods to your belt can reduce the chance of theft. 
Style to fit your aesthetic 
While the minimalist bright white shine of the AirPods can be appealing to some, it's not for everyone. Add a touch of personality to your tech with your favourite colour and print. Distinguish your tech from everyone else with a case that suits your taste and adds a touch of happiness to your everyday life. 
Here at Harper & Blake, we have a wide variety of AirPod and AirPod Pro cases for the latest models in unique, bright and colourful designs to keep them secure, safe and dirt-free. With a silver carabiner clip, attach it to your keys, belt or bag for easy access.

Shop the latest AirPod cases here

Other Blogs

How to Keep your AirPods from Falling Out
How Long Do Apple AirPods Last and How you Can Extend their Lifespan
My AirPods Got Wet, What Should I Do?
How to Clean your AirPods Case
Can I charge my Airpods Wirelessly?
Can You Use AirPods with Android Phones?