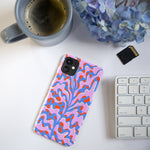 Beautiful Design Improves your Wellbeing
Aesthetically pleasing things make us happy. We think that's a given, we like looking at beautiful art, stunning landscapes and scenery and alluring architecture. However, did you know that this can have a positive effect on your wellbeing and mental health?
"Arts on Prescription, a project backed by Arts Council England, has shown that GB consultation rates drop by 37% and hospital admissions decrease by 27% when people actively attend galleries and museums." [1]
Studies show that beautiful design, print and art can have positive effects and evoke feelings of happiness and joy. This can of course be connected to your fashion items, accessories and furnishings. It's clear that a well-designed home can make you happy and certain colours we pick in our wardrobe correspond to our personality and how we want to express ourselves.
You ever feel good and happy when wearing your favourite colour or a print that you love? It's not only just looking at art in a gallery, you can improve your wellbeing right at home. 
Everyone has different tastes, it's why we offer such a selection of themes so that you can express your individuality. Be it for botanical and floral themes for those in tune with nature or mystical designs for those who want to express their magical side. 
We at Harper & Blake believe that beautiful design truly can improve your wellbeing. It is why we spend so long designing our prints and researching colour palettes; to provide you with such an array of unique designs to make yourself or the people you gift happy. 
Take a look at our latest gift collection page to find curated edits of our tech accessories to find the latest gift for yourself or a friend. 
https://harperandblake.co.uk/collections
Stay tuned for more exciting and unique collections coming soon. 
Remember to subscribe to our newsletter to get the latest news on our collections and exclusive discounts
here
References: 
[1] https://www.riseart.com/guide/2278/art-collections-art-and-wellbeing-the-healing-power-of-art