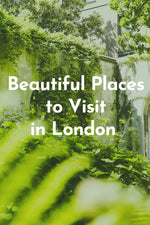 Beautiful Places to Visit in London 🏙🌿
London is one of our favourite cities. We may be biased since Harper & Blake was born and raised in the city but there's so many beautiful and magical places to visit. 
All our designs are created in the city and we're very much inspired by what surrounds us so take a look and see what inspires us in the city of London. 🏙
The Barbican Conservatory 
If you couldn't already tell, we're very much inspired by the natural world. This conservatory houses over 1,500 species of plant and a beautiful assortment of flora. The Barbican is perfect to visit when you want to escape to the jungle in the middle of the city. What's even better is that admission is free but you have to book tickets in advance. 🌿
Leadenhall Market
Are you a fan of the magical and mystical? Why not visit the beautiful Leadenhall Market, near Monument and Bank stations. This stunning 14th century market may look familiar to you, it's because it was the set of Diagon Alley in the Harry Potter films! Why not go back in time and explore the magical streets of Leadenhall Market, now filled with vast array of shops and restaurants. 
High Gate Cemetery
Are you brave? Why not venture into Highgate Cemetery and walk amongst the graves of famous authors and figures such as Douglas Adams, George Eliot and Karl Marx. The mystical and beautiful Victorian cemetery is open for guided tours at the moment and is a short walk away from Archway station. 
Portobello Road
As you've noticed, our designs come in a great range of bright and beautiful colours and we're very much inspired by the colourful streets of London, especially Portobello Road. Now an antique market for trinkets and second hand clothes, why not pick up something unique and wonderful? 
St Dunstan in the East
Once a church of England church near London Bridge, it was sadly destroyed during the Blitz in WW2 and the ruins are now a beautiful public garden. Instead of restoring the church, the City of London decided to leave it and turn the remains into a public garden. You can visit for free and walk amongst the quiet ruins and greenery in the middle of a busy, bustling city. 
We hope you enjoyed reading through our list of our favourite and beautiful places in London and we hope you get a chance to visit them as well. 
Stay tuned for more exciting and unique collections coming soon. 
Remember to subscribe to our newsletter to get the latest news on our collections and exclusive discounts
here