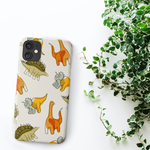 Can I Put My Credit or Debit Card In My Phone Case?
The age-old question of putting your bank cards with your phone has been around ever since mobile phones were invented. The reason for this is because our bank cards contain a magnetic strip and mobile phones also produce a magnetic field, which leads to fears about demagnetising your cards. 
So can my phone demagnetise my bank cards?
Not to the point that you think they can. We'll detail all the rumours and exaggerations down below. 
Credit Card Strips
The magnetic strip on your credit card will demagnetise and deteriorate over time, that's the reason for the expiry date on your card. 
So yes, if you put a magnetic up next to your bank card then it can damage and demagnetise it but this mainly depends on the strength of the magnet. Large magnetic fields have the potential to damage and increase the deterioration of your bank cards. 
So can my phone demagnetise my bank cards? 
Yes, your phone does produce a magnetic field, but it's nowhere near strong enough to damage or deteriorate your bank card. The magnet in your phone is found in the speaker, which is much too weak to harm your cards. 
Therefore, there's nothing to worry about carrying your bank cards and phone together. Your bank cards will deteriorate over time naturally, whether you keep them with your phone or not. 
What about mobile contactless and wireless charging?
If you rely on contactless payments on your phone, having a metal phone case won't work. If you use contactless payment on your phone and keep your bank cards close by, you need to be careful which card is being used as the card reader may get confused. Therefore, if you use mobile contactless payments, it's best if you keep your phone and cards separate when making a payment. 
If you use a wireless charger, it's best if you keep your bank cards or anything magnetic separate. Wireless charging also relies on magnets and this magnetic field is a lot stronger and could have the potential to damage your bank cards. So, we recommend you don't keep your bank cards with your phone while wirelessly charging. If you don't use wireless charging then there's nothing to worry about. 
Want to keep your cards and phone together practically and cutely? Our wallet phone cases keep your phone and bank cards all together in one convenient case whilst also protecting your device. If you're still paranoid about damaging your bank cards, the layers of fabric between the cards and your phone are enough to stop any magnetic fields. 
Our wallet cases are perfect for those who want to add more practicality to their phone case while still staying stylish. Designed in London, each features our signature Harper & Blake style and one-off creations, including animal print phone cases, abstract art and more.