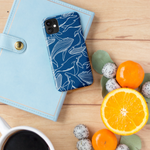 Best Summer Phone Cases For 2022
Are you looking for a new phone case for the sunny season? We've got you covered. Our vast range of designs and colours will suit anyone's preferences and make you turn heads this summer. Our stylish prints and tough, secure phone cases will give your phone the protection it needs without compromising on style. 
See our edit below to find your next perfect phone case or a perfect gift for that special someone. 
Seaside Ocean Vibes 
Love the summer ocean breeze and the adorable sea animals that go with it? Our range of ocean animal print phone cases are for you. 
Our ocean animals line art phone case is a mix of cute sea creatures, coral and small fish. It's perfect for those who love the minimalism aesthetic of line art but want to add a touch of colour as well. The deep teal background mixed with multicoloured line art blend together to give an exciting and unique print. 
Cute Y2K Pastels 
Who says pastels are only for spring? Pastels are hot right now and are here to stay all year round. 
Colourful yet subtle, our check swirl Y2K inspired print blends together both of our best sellers into a unique and bold print. This 2000s inspired print is versatile and will match any of your summer outfits. The pastel green and baby pink compliment each other well to create this eye-catching print. 
Beautiful Elegant Florals 
Floral prints are timeless and are perfect each spring and summer month to appreciate the sweet scent and sight of new blooms each year. 
Our modern minimalist flower print is simple, subtle yet elegant. This single placement design is ideal for those who love minimalist designs and want to keep their wardrobe and accessories simple. The mint green background is a perfect pastel colour for summer months and the white line art compliments it beautifully. 
Groovy 70s Vibes 
Are you in love with the 70s? The groovy and colourful 70's aesthetic is in this season and is perfect for those in love with bright colours and prints. 
Our stunning 70s sunrise design is playful, colourful and fun. Add a touch of dopamine dressing to your everyday life and put a spring in your step with this print. The beautiful pink and orange tones of the sun blend perfectly with the bright blues and teals of the sky. 
Here at Harper & Blake, we have a wide variety of phone cases for the latest iPhone, Samsung Galaxy and Google Pixel phones in bright and colourful designs. Best of all, all our designs are available for both slim and tough cases so you don't have to compromise protection for beautiful design. 
Shop our range of iPhone, Samsung Galaxy and Google Pixel phone cases here