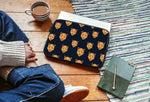 We hope that you and your loved ones are healthy, safe, and well.
As the uncertainty and impact of COVID-19 continues to evolve, keeping our community safe and in the loop is our top priority.
As of today, our printing partners are still up and running as usual and so are we! The only delay in the supply chain you may feel as a customer is that of the delivery services. There are various delays in shipping throughout the globe due to the pandemic and they are continually being monitored.
However, we ourselves have not seen an increase in reports regarding late delivery from our customers. If you are concerned about shipping times, we would recommend to check out the relevant website for our couriers below:
United Kingdom: https://www.royalmail.com/coronavirus
United States: https://about.usps.com/newsroom/statements/usps-statement-on-coronavirus.htm
Australia & NZ: https://auspost.com.au/about-us/news-media/important-updates/coronavirus
Japan: https://www.post.japanpost.jp/int/information/2020/0319_01_en.html
We will continue to monitor the situation and update you where possible. If you have any questions please send us an email at georgia@harperandblake.co.uk, or contact us via social media.
We are also offering gift cards here for those who wish to support us during this difficult time.
In the meantime, stay safe and stay indoors!
H&B x