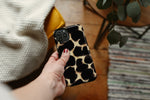 Doing our bit for the Earth & brand transparency
Today on the Harper and Blake blog, we're going to explore some of the things we're doing to keep our environmental impact to an absolute minimum when producing our cases. In doing this, we aim to shed a bit of light on our design and production process in the interest of brand transparency.
In our ever changing world and in the Earth's state of environmental crisis, we believe brands should always be held accountable for their actions and should aim to be as responsible as possible in their growth.
Our process
We design all of our prints in our London studio ourselves with our small team of creatives, but when it comes to producing and printing our cases, we use a printing partner based in the UK. This allows us to make our cases to order, thus avoiding the waste and excess product that comes from mass production.
Our printing partner
Our printing partner states on their website 'we ensure that the materials we use and the consumable products we sell in our systems have no adverse environmental impacts, are recyclable, and, by operating faster, reduce the costs of energy use'. Aside from having low environmental impact, our printing partner also allows us to ship worldwide by offering printing locations across the globe, ensuring that our cases can be printed as close to the customer as possible. This means reduced carbon footprints and faster shipping times for you!
Another really important topic is the corporate social responsibility we have to the earth and its people. Our printing partner is a member of amfori:BSCI, a 'Business Social Compliance Initiative' that helps companies to drive social compliance and improvements within their factories, and also the Fair Labor Association, which aims to eradicate slavery, forced labor, child labor and harassment and abuse in the workplace.
By choosing an environmentally and socially responsible printing partner, and adopting our own efforts in the studio to prevent unnecessary waste and environmental damage, we feel are doing our bit for the environment and its people. However, we recognise that we still have a long way to go in being completely sustainable, so we are always looking out for new and exciting ways to help the planet. (We are currently looking into producing a compostable phone case!)
What are your thoughts on the responsibility that brands hold to the planet? What steps do you take in your everyday life to tackle the environmental crisis?
Take a look at our cases here