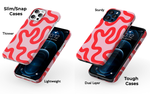 FAQ: Whats the difference between a tough case and a snap case?
This week on the Harper & Blake blog, we'll be answering one of our most frequently asked questions: what's the difference between a Harper & Blake snap case and a tough case?
The short version of the story is that the tough version offers more protection from drops and other impacts. However, the cases are similar in a few ways too.
See the table below to decide which case is best for you!
Snap Case

Tough Case

Impact resistant polycarbonate
Dual layer case
Slimmer form factor
Impact resistant polycarbonate outer
Exposed ports and buttons
Inner TPU (rubber) liner to absorb impacts and covered buttons
Lighter and thinner
TPU protects volume and on/off buttons,
but they are still press-able
Best for those who want the slimmest and lightest case possible
Best for those who want more protection

Don't be shy! Drop us an email if you have any further questions about our tough and slim/snap cases. 
Shop both snap and tough cases in a wide range of prints on harperandblake.co.uk