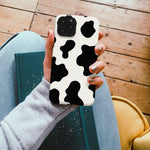 How Our Phone Cases are Printed and Made - Your Questions Answered
Here at Harper & Blake, all our phone cases are made to order specifically for you. This means your phone case has been made with you in mind. Furthermore, working with a made-to-order business plan helps us reduce waste rather than creating excessive and wasteful stock. We often get questions about how we print our phone cases and if the design wraps fully around the phone case. 
In this blog, we'll take a deep dive into how we create our phone cases, how we're able to print to the highest quality and answer your frequently asked questions. 
How are phone cases made?
Phone cases are made pretty simply. Like ours and many others, they're made using a mould, high temperatures and clever machinery to make sure the case fits snug and tight on your phone. 
This process carefully moulds all the buttons, ports and camera holes perfectly line up with your phone, ensuring maximum protection and usability. 
With these plain phone cases, we are now able to print your favourite colours and designs onto them, which we'll detail below. 
How do we print our phone cases - How does the design wrap fully around?
At Harper & Blake, we're able to print our phone cases to the highest standard and quality. We use the latest 3D sublimation printing technology that helps process ink deep into the cases' surface which ensures: 
All our beautiful colours and designs are bright and crisp

Your case is UV and fade resistant 

The print will not peel or rub off 

It will be sure to last the lifetime of your phone case 
For our snap and tough hard cases, the design can wrap fully around the case creating a beautiful seamless effect. 
Our eco cases can't have the design wrap fully around the phone case. However, they are still beautifully unique so we've designed our eco cases specifically to make sure the designs still look stunning, even when they can't wrap fully around the phone case. 
What is made-to-order?
Now that your phone case has been beautifully printed, you're wondering how many we print of one design? Just one! Being a made-to-order business means we only print what is necessary and we don't create excessive waste with our products. 
Our made-to-order business model ensures we can take control of our stock levels, create a large and diverse range of designs and colourways and offer unique personalisation for your phone case and more. 
We believe this is the best strategy for us and the planet so we don't fill up landfills with wasted stock. We believe in a more sustainable future for us and our technology so we've taken special steps to be certain we can be as eco-friendly as possible. 
Here at Harper & Blake, we have a wide variety of phone cases for the latest iPhone, Samsung Galaxy and Google Pixel phones in bright and colourful designs.
Shop our range of iPhone, Samsung Galaxy and Google Pixel phone cases here