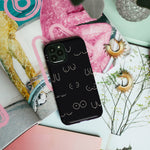 Which Phone Case Is Best for My iPhone? Snap or Tough?
Today on the Harper & Blake blog, we'll be answering one of our most frequently asked questions:
"Should I get a Snap or Tough Case?"
The short answer is that if you prefer a slim-lined light design or a phone case that focuses on protecting your phone from bumps, scratches and drops. 
We'll go into the details below about the pros and cons of both phone cases and we'll hopefully answer any questions you have. 
What's the same between both cases?
Both our snap and tough phone cases are made of a hard and durable polycarbonate plastic material, which is shock and drop resistant. Both allow easy and clear access to all ports for your charger, headphone and buttons. 
They are both also printed in the same way using 3D sublimation printing technology and our designs wrap fully around both our snap and tough cases. We offer the same designs for both our snap and tough cases so there's no need to compromise between beautiful design and great protection. 
We offer a gloss and matte finish for both our cases, which you can find out about more here.
Snap/Slim Phone Cases
If you're looking for a slim and sleek design, our slim phone cases are for you. Made of lightweight hard polycarbonate material, it won't weigh you down. This high-quality plastic is also durable and will protect your phone from falls and scratches.
If you want to keep your phone slimline, light and more of the original weight of your device, we recommend our slim case for you.
However, these slim cases are perfect for those who are more careful and not prone to dropping their phone. We'll detail our tough phone cases below. 
Tough Phone Cases 
If you're a bit more clumsy, then our tough cases are for you. Our tough phone cases are made of two durable parts, a black silicone inner lining and a hard polycarbonate case that snaps around the silicone case.

The silicone case wraps around your phone screen and camera on the back to offer more protection to those who are prone to dropping their phone. This inner silicone case absorbs impact and will prevent unwanted bumps, scratches and cracks. This black silicone case sits on the edge of the camera and screen for added protection.

However, this can add bulk and weight to your phone and are not for those looking to keep their device sleek and slimline. Furthermore, we can only offer silicone cases in black so our tough cases are not for those who want to colour match their phone to their phone case.
The Lowdown 
We've created this handy table to break down the main differences between both types of phone cases. 
| | |
| --- | --- |
| Snap Cases | Tough Cases |
| Single slim snap outer case |  Dual-layer snap and silicone case |
| Lighter and thinner | Bulkier and heavier |
| Limited protection from bumps, drops and scratches | More protection from bumps, drops and scratches |
| Exposed ports and buttons | Inner silicone liner that covers buttons but is shock-resistant from drops  |
Drop us an email if you have any further questions about our tough cases and slim/snap cases over on our contact page.