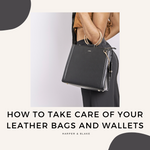 How to Take Care of your Leather Bags and Wallets
You've just indulged yourself with a new leather bag or wallet, it's perfect and you want to show it off to the world. However, you've just got back home and noticed a stain on it! You don't want to ruin the beautiful leather fabric so what should you do? Don't fret!
We've put together a list of tips and tricks on the best ways to take care of your leather goods and to cherish them for many years to come. 
Everyday Care
Increasing the longevity of your leather items comes with everyday care. These are simple tips and tricks you can make sure your favourite bag lasts a lifetime. 
Most leather bag damage comes from overfilling or carrying too heavy items, increasing strain and adding stress and scuffs on the straps and details. Spend some time thinking about how much you carry day to day and finding the perfect size bag, suited for yourself. 
Don't just throw your makeup and pens into your bag without a proper bag or pencil case! Makeup stains and ink can be some of the hardest stains to clean so make sure all your items are secure. 
If it's forecast to rain, make sure you bring an umbrella or if your bag is suede, don't take it at all! Suede and water do not mix and cleaning wet leather can be tricky. 
Take some time each week to carefully brush away any dust from your leather goods with a brush with a soft cloth.
Use leather conditioner every few months to keep your bag and wallet looking new and fresh. 
Stains
You've got a stain on your bag or wallet, find below the best ways to clean it and make it look new again. 
Brush the fabric with a damp cloth and make sure you dry your bag with a towel to get rid of any moisture. Allow it to dry naturally and out of the way of direct sunlight. 
However, if you have a grease stain on your bag, do not use water. Take some time to invest in a leather cleaner, specifically made for bags, as some cleaners may be too harsh for your bag. 
Household cleaners or home remedies for stain removal may be too harsh for your bag and damage them even more. However, always spot test a cleaner before using it on your bag.
Storing your leather bags
Not going to be using your bag for a while? Make sure your store it correctly to make sure it's in good shape when you want to use it again.
Don't hang up your bag! Don't loop the handles on your door or any hook as this can misshape your bag. 
If your bag came with a dust bag, use it! Keep your bags dust-free and if you don't have one, an old pillowcase will do. 
Stuff your bag with some old t-shirts to help it keep its shape. 
We hope these tips and tricks will help you with any of your leather care questions and queries. Remember, the best way to care for your bag is...preventing any damage in the first place so treat your leather goods well and they'll last you a lifetime. 
Remember to stay in touch to see what's coming soon from Harper & Blake. 
Remember to subscribe to our newsletter to get the latest news on our collections and exclusive discounts here