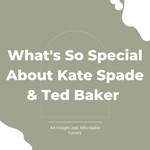 What's So Special about Kate Spade and Ted Baker? | An Insight into Affordable Luxury
Kate Spade and Ted Baker are two extremely popular brands amongst the millennial generation, in both the UK and the US. However, why is that the case? What is it about these greatly successful brands that make them so special? Read more to see what we think make them so great. 👇🏻
Affordable Luxury 
What is affordable luxury? It's a self indulgence gift that is on a steep but affordable price for the everyday person to make us feel special. True luxury is seen as an inaccessible item for a majority of people, especially in the current economy. More and more people are reaching for more affordable luxury brands. It's not longer a necessity to shell out a lot of money on clothes and accessories to look glamorous or luxurious anymore. 
Ted Baker and Kate Spade do exactly that, they offer high quality and value items at a practical and affordable price point. High quality leather wallets at a price point of £90 is a lot more attractive to the millennial generation than those of traditional luxury of prices up to £370. 
Unique Design 
Beautiful designs brings small happiness into our lives and improves our wellbeing. What makes these two brands so special is the unique, attractive and eye catching designs they release on a regular basis. We want to talk especially about their patterned wallet collections. 
Kate Spade's collection of patterned collections are unique, eye catching and fun. The individuality of their designs create a sense of personal self expression. Their feminine and sometimes cute designs appeal to women who want to bring out their fun personality through their accessories and fashion 
Ted Baker bring a sense of sophistication to their patterned wallets and purses which a range of designs from animal prints, cute love hearts and painted brush strokes. The variety of designs attract a large number of people with a range of various personal style tastes. 
Therefore, what makes Kate Spade and Ted Baker so special is their consideration for creating unique and beautiful designs that appeal to the millennial market. Top end luxury is often out of reach for a majority of us but these affordable luxury brands can give us the opportunity of making us feel special with high quality stunning accessories.
Remember to stay in touch to see what's coming soon from Harper & Blake. 
Remember to subscribe to our newsletter to get the latest news on our collections and exclusive discounts here