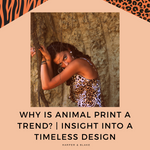 Why is Animal Print a Trend? | Insight into a Timeless Design
Trends come and go but some trends, colours and patterns will always stay in fashion, no matter the season or year. One of these is the bold animal print. The statement pattern has been on runways, high street shops and the red carpet for decades but why does it always come back? Today, we'll delve into the elusive animal print and see why we all love it so dearly.
Where does the animal print start? 
Animal print, as a fashion statement, has been around since the 1930s¹. This is was due to the release of Tarzan the Apeman in 1931 where the lead actor and actress wore animal print and fashion lovers couldn't get enough of this new, powerful look! Fur was always seen as a sign of status and power and many everyday women were excited to try it out. 
As years passed, leopard print especially saw an all-time high with the introduction of Dior's new look in the 1950s. Even though the use of animal print came to everyday fashion, the power and status the leopard print exerts are still high and mighty.
Fast forward to the 1980s and 1990s, animal print was everywhere. More print came into fashion such as zebra, snakeskin and cow and was loved by all subcultures from punks, hippies to high runway fashion. Today in 2021 where (faux) animal print continues to make a statement with a large array of prints available for all. We believe the classy yet stylish print will stay in fashion, most sustainably, for years to come.
Why do we love it?
We now know where animal print started but why do we love it so much? We've been researching and we've narrowed down some points as to why it keeps creeping back into our wardrobes.
Versatility 
We all love a versatile item, don't we? Sometimes we want more than just a plain coloured accessory or jacket so why not add some animal print into the mix? With a large array of colours and patterns, something like a zebra print bag will go with all your clothes and will make you look classy and sophisticated. 
Easy to style 
Don't know what to wear? Want to pack a punch for your jeans and a nice top look? Bring instant glamour with an animal print top or jacket with a pair of jeans or skirt and you'll look like you just stepped out from the runway.
Always in Season 
While we're all trying to cut down on our spending and keep a capsule wardrobe, animal prints are a go-to since they never go out of season. A tiger print bag for a summer pub lunch will also look stunning for a winter get together at a Christmas market. 
We believe animal print will never go out of fashion as it's booming in 2021, as it did in 2018, the 1980s and way back in 1930. We look forward to seeing what will come next in the animal print trend for the winter season.
Why not take a look at our range of animal print inspired phone cases and laptop sleeves to add a bit of class and sophistication to your tech accessories. 
Remember to stay in touch to see what's coming soon from Harper & Blake. 
Remember to subscribe to our newsletter to get the latest news on our collections and exclusive discounts here