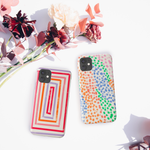 Seasonal Dopamine Dressing Accessory Tips To Boost Your Mood
Studies show us that colour has a tangible effect on our mood. This may be why we reach for certain colours when we get ready in the morning, and you can certainly see how this could influence your choice of décor around the home.
You may think that we pick certain colours to reflect our mood. Say you feel bad one day, so you go for dark colours. While this can be the case, there's also an idea that you can work this the other way around and induce a mood through your colour selection. This is easy to imagine with décor. You may want your bedroom to be in soft pastels or creams for example. But what about your clothes and accessories?
What is dopamine dressing?
You guessed it. This is where the dopamine dressing idea comes in. Dopamine is a neurotransmitter in our brain that reinforces feelings of satisfaction. It's the thing behind our sensation of pleasure.  
Translating this theory onto our wardrobes is an idea as old as well, clothes themselves. Ancient cultures have paid homage to certain colours, and right up-to-the-minute fashionistas are talking about the colour block trend and how bright hues can lift our spirits in uncertain times.
And is it that simple? Well, cultural views of colours can go a long way in this dopamine dressing world. One colour can represent completely contrasting things in different cultures. Take black for instance. In Europe, it's widely considered a colour of mourning. In Africa, it symbolises maturity and masculinity.  
Universal colour interpretations
There may not be set rules for colours and the emotions they evoke across the world, and the same comment can be true of us down to the smallest, granular, individual level. We all react differently to colours.
So, are there universal colour meanings we can lean on to quite literally, brighten up our wardrobes and our lives? If we look to research again, there are some clues to universal meanings. Black is often linked to confidence, yellow with happiness, and blue with a calm repose.    
There's also evidence to suggest that post-lockdown, many of us are turning to brighter colours. Perhaps as a sign of hope, or to break out of what has felt like a dark time. With the colder months setting in, we've seen an increased interest in our colour block and popping hues across our phone cases and laptop sleeves too.
Our happiest phone cases
All this has made us feel like reaching for the brighter colours in our wardrobes, and that always extends to our accessories. To round up, we wanted to share our favourite and most popular, positive phone case designs. Get your autumn dopamine hit here, and remember, this is all about how each colour and design makes you feel.  
1. Autumnal colour block phone case
If pinks and purples make you feel calm, kind and loving, the autumnal colour block phone case is the thing. Wear it with contrasting colours or neutrals to add a statement pop to our outfit. Yes, you need this timeless and minimalist pink phone case in your life.
2. Yellow bees phone case
Sunny tones are just the thing for us right now. The sunshine might be dwindling on our UK shores, but we still need a dose of this happy hue in our lives. One of our bestsellers, the bee print is available as a yellow phone case. That's your autumn-winter sunshine sorted.
3. Bubble panther phone case
Sometimes it's not about just one colour, but a medley of our favourites to lift our spirits. The bubble panther print is another bestseller in our collection, with a range of different designs with abstract swirls that champion blends of blues, purples, reds and animal prints. We love the power hit of the bubble panther red phone case, but there's a variation to suit your mood and your style.