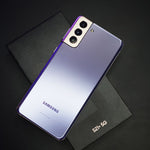 What Samsung Galaxy do I have? How to check your phone model
With Samsung Galaxy releasing phones every year, it can be hard to keep up with the latest releases and models if you don't read tech news regularly. The Samsung Galaxy has changed and improved over the years but it still can be hard to remember what phone model you have. You may also need your model number if you need to bring your phone in for repairs or need help with certain hardware issues. 
This is especially important when buying a phone case since you want it to fit and size varies between different models. (Read our Samsung compatibility guide here)
But we at Harper and Blake are here to help, read down below to see our handy guide for identifying your Samsung Galaxy. 
How to check what Samsung Galaxy you have 
There are three easy ways to find out which Samsung Galaxy you have. 
Check via the settings menu
On your Samsung phone, go to your Settings app and then to About Phone. Here, you should be able to find: 
Model name

Model number

Serial number

IMEI number

Hardware version
Depending on what Samsung phone you have and what Android version is installed, finding this page can be slightly different but you can always use the search function to find this page using "About device" or "model name".
Check the back of your phone 
Your phone can't turn on and you need to find out the model number. Don't worry. Samsung prints the name and model number of their phones on the back at the bottom in a very small font underneath where it says "Designed & Engineered by Samsung."
Have you got an old phone with a removable battery? Just turn off your phone, take out the battery and your model number should be on a sticker on the battery. 
Check your Samsung account 
If you have an account registered with Samsung, you can check what phone you have and all the information you'd find on your phone settings app on your account online. This is useful if your phone won't turn on and you can't read the model number from the back of your phone. 
Need more help? It's always good to check the model name list below to help identify your phone further. 
Still not sure? It's best to contact Samsung if you need help with your device or feel free to send us a message on our contact page if you need help figuring our which phone case you need for your device. 
Don't have a Samsung Galaxy? Check out our guide on finding out what iPhone you have.
Here at Harper & Blake, we have a wide variety of phone cases for the latest iPhone and Samsung Galaxy phones in bright and colourful designs. Best of all, all our designs are available for both slim and tough cases so you don't have to compromise protection for beautiful design. 
Shop our range of iPhone and Samsung Galaxy phone cases here