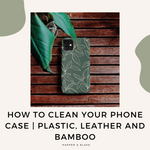 How to Clean your Phone Case | Plastic, Leather and Bamboo
Let's be honest, our phone cases are filthy and as they're being exposed to heat, friction, different surfaces and being dropped, there's no doubt they start looking bad! Even with the current situation looking brighter and going back to normal life, you should still regularly clean your everyday items to stay safe, clean, and healthy. 
Overall Tips 
Here are some overall tips before we crackdown and tell you the best ways for different phone case materials 
Remember to remove your phone!
This seems obvious and a given but sometimes we forget and we want to give our cases a good clean so remove your phone before you start cleaning. 
Use lint-free, soft cloths 
Using these cloths guarantees no scratches, smudges or stains on your case or your phone. You should avoid using any abrasive such as paper towels. 
Don't leave it wet 
Remember to dry your phone case before putting it back on your phone! We don't want any moisture getting trapped between the case or in any openings on your phone. 
 Cleaning Hard Plastic Phone Cases
Our hard tough and snap cases are made of durable plastic and can be easily cleaned with just washing up liquid, warm water and a sponge or old toothbrush. 
Fill up a bowl with warm water (not boiling) and washing up liquid. 

Pop in your phone case to soak for a few minutes

To remove any stubborn stains, scrub your phone case with a sponge or old toothbrush. Stains not coming out? Try adding a bit of baking soda 

Rinse your case with water and dry it with a lint-free soft cloth to avoid scratches 

Make sure your case is fully dry before putting it back onto your phone 
With our tough cases, cleaning the rubber insert is just the same so don't forget to give it a good clean too. 
Cleaning Leather Phone Cases
Cleaning leather can be tricky, you'll know if you've read our leather blog! But your phone cases should be given the same treatment and faux leather is just the same. Cleaning leather can be done with hand soap, warm water and a soft cloth. 
Mix hand soap and warm water into a bowl 

Don't submerge your leather case into the water as this can discolour your case and give it water stains. Dip some of your cloth into the water and gently wipe your case 

Once it's clean, dry your case with a dry soft cloth and leave it to dry. Don't dry it in direct sunlight as this can damage your case as well. 
If you'd like, you can use a leather conditioner or a leather cleaning solution as well. 
Cleaning Bamboo Phone Cases
Cleaning your eco bamboo phone case is important too and comes with its own set of rules. While our cases are printed with our beautiful illustrations, make sure you don't use any alcohol or cleaning agents on these designs. All you need is soap and warm water. 
Like the others, mix gentle hand soap or washing up liquid with some warm water (not boiling)

Don't submerge your bamboo case and wet a soft cloth (no brushes or bristles) and wipe it gently 

Once it's clean, dry it gently and leave it to air dry. 
It's as easy as that! Maintaining your cases and items is important in increasing their longevity and effectiveness so keep it clean.
Remember to stay in touch to see what's coming soon from Harper & Blake. 
Remember to subscribe to our newsletter to get the latest news on our collections and exclusive discounts here