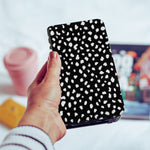 Are Wallet Phone Cases Safe?
Are you thinking about which new phone case to get for your brand new phone? A wallet phone case is a unique and functional way to protect your phone and store your loose change and cards.
However, are wallet phone cases safe? Will they protect my phone? We'll answer all your questions about the wallet phone case down below. 
Are Wallet Phone Cases Practical and Safe?
Wallet phone cases offer the most functionality and practicality than any other phone cases. In particular, our folio cases include stitched pockets to store cards and cash and offer practicality to your everyday life. Our wallet cases also have a stand feature to make it easier to watch videos on your device.
Overall, having everything you need in one will minimise you forgetting anything such as your phone, ID, cards or any cash since it's conveniently all in one! Having your wallet and phone in one will benefit those who don't always want to carry around an additional wallet and a handbag.
You're probably thinking the same, doesn't this mean it's also easier to lose everything at once? Losing your phone is one thing but as well as your cards and ID? This issue can be easily resolved if you're mindful of your belongings and be aware of areas where pickpockets are prominent. 
Will my phone affect my credit cards?
If you're storing your cards alongside your phone, you may worry about damaging the magnetic strip on your credit cards. While your phone does produce a magnetic field, it's nowhere near as strong enough to demagnetise or damage your credit cards. All magnetic strips in your credit cards will break down over time but it's unlikely your phone will contribute to that. 
Will a Wallet Phone Case Protect My Phone?
Like with any other phone case, a wallet phone case will also protect your phone pretty well! The extra bulk of your case from any cards and cash will absorb any impact from falls and drops, while the case also covers your screen from cracks. 
Our high-quality vegan leather has a soft and textured feel to your case that offers grip and flexibility but also impact-absorbing protection. 
Are Wallet Phone Cases Bulky?
If you're worried about bulk, a wallet phone case may not be for you. The vegan leather material added with your cards, cash and phone itself can contribute bulk to your phone case. They are thicker than most plastic or hard phone cases. However, leaving your wallet behind means you have less weight to carry around anyway. 
Our tip is to not overload your wallet phone case over the recommended slots as this can damage the phone case itself. 
Our wallet cases are perfect for those who want to add more practicality to their phone case while still staying stylish. Designed in London, each features our signature Harper & Blake style and one-off creations, including animal print phone cases, abstract art and more.