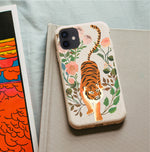 Best Eco-Friendly Phone Case Designs
There's no denying that our current climate emergency is scary and frightening. It doesn't take a mathematician to work out that the billions of phones around the planet have an impact on the environment. And that goes for phone cases as well as your mobile.
However, there is a solution to that! Eco bamboo phone cases. These phone cases are made from natural and compostable materials such as bamboo and use plant-based inks. This makes the case 100% plastic-free and made of plant-based materials so there are no toxic or nasty materials. This makes your phone case safe to biodegrade in a landfill or compost bin. 
However, you're wondering, can I choose beautiful design as well as sustainability? Here at Harper & Blake, you can with our range of beautifully unique designs. See our edit below to find your next eco-bamboo phone case. 
The Plant Lover 
Do you live and breathe all things natural and floral? Our Botanical Cloisonné bamboo phone case could be just for you. Designed by the talented Cecilia Mok, this gorgeous floral design inspired by the historical cloisonné technique is perfect for any flower lover. The colourful flowers and gold coloured outline add a touch of luxury and femininity but also makes it a perfect pattern for a natural eco phone case.  
The Minimalist 
Are you a minimalist and like all things sleek, clean and simple? Why not take a look at our season's bamboo phone case? This simple line art print of clouds, sun, stars and moons is perfect for anyone wanting to add some individuality to their accessories without all business.
The Animal Lover 
Want to add the wild side to your tech accessories? The tiger garden print is for you. This beautiful print is designed by Cecilia Mok and we love the hand-painted tiger and elegant floral blooms surrounding it. This beautiful phone case is perfect for animal lovers who love a bit of femininity and beauty in their fashion style. 
The Colourful One 
Are you all about bright, colours and busy prints? Why not go for our abstract nature print? These abstract and colourful forms are inspired by the geometric and unique shapes in nature and are perfect for anyone looking to add some dopamine dressing to their wardrobe. 
Want to learn more about our eco bamboo phone cases? Take a read at our blogs here:
What is an Eco Phone Case? How to live Zero Waste with your Tech
What Are Eco-Friendly Phone Cases And Why Should You Buy One? 
Here at Harper at Blake, we have a beautiful range of limited-edition unique bamboo phone cases for iPhone and Samsung Galaxy. Not only are they made of bamboo, but all our cases are made to order to reduce waste. 
See our full collection here with abstract, line art and unique designs, there is bound to be one perfect for you.