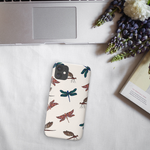 Can My iPhone Charge Wirelessly? | Your Wireless Charging Guide
Wireless charging is all the rage now, with its convenience and easy to use technology, there's no need to mess around with cables or plugs and plus it can look pretty sleek on your desk. However, not all devices are compatible with wireless charging and are there a difference with Apple's MagSafe technology? We'll answer all your queries below. 
What are Wireless Charging and MagSafe?
Wireless charging, also known as inductive charging, is an easy and wireless way to charge your phone and other electronic devices. It works by transferring energy between the charging mat to a receiver at the back of your phone through electromagnetic induction. These normally only work when both your phone and charging mat are nearby of each other and aligned correctly.
Wireless charging uses Qi technology and is a worldwide standard for wireless charging across the globe. Almost all phone manufacturers use this technology with wireless charging including Apple, Google and Samsung. 
MagSafe is the name of Apple's wireless charging accessory and is used for their iPhone, AirPods and MacBooks. It uses a magnet to connect the charger to your device and keeps it secure and safe whilst charging. 
What do I need for wireless charging?
First of all, you need a phone that is compatible with wireless charging, see our guide below to see if your phone is compatible. 
Apple iPhone
iPhone 13 Series, iPhone SE 2022, iPhone 12 Series, iPhone 11 Series, iPhone SE 2020, iPhone XS Max, iPhone XS, iPhone XR and iPhone 8 and 8 Plus.
Note: To make it confusing, the iPhone 12 and iPhone 13 series include MagSafe magnets for better charging and connection. While the others do work, they just don't have magnets inbuilt in them. 
Samsung Galaxy
Samsung S22 Series, Samsung S21 Series, Samsung S21 FE, Samsung S20 Series, Samsung Note 20 and Note 20 Ultra, Samsung S20 FE, Samsung S10 Series, Samsung S9 Series, Samsung S8 Series, Samsung S7 Series
Google Pixel
Pixel 6 Pro, Pixel 6, Pixel 5, Pixel 4 XL, Pixel 4, Pixel 3 XL, Pixel 3
Second of all, you need a wireless charger. You can purchase a MagSafe charger from Apple but there are tons out there to choose from. You don't necessarily need an Apple MagSafe charger to use wireless charging for your iPhone, especially if you have an older model or aren't too fussed about a magnetic connection. 
Just make sure to double-check your phone is compatible with the charging pad before purchasing. 
Will my phone case work with wireless charging?
It depends! Always check before purchasing that the phone case is compatible with wireless charging as some can be too thick to create that electromagnetic induction. You can also purchase MagSafe phone cases from Apple with an added magnet for your iPhone 12 and higher. 
At Harper & Blake, all our phone cases are compatible with wireless charging and MagSafe, just without the added magnet. These include our hard cases, wallet cases and our eco bamboo cases.