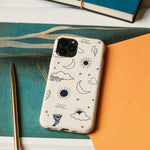 Which iPhone case is the best for you?
You have a new iPhone and now you need a new stylish but protective phone case. However, with so much choice online, it can be overwhelming what type of case to choose! Do you want something sleek and stylish to match your outfit or are you more practical and want space for your cards and cash? 
There are so many protective, practical and stylish cases available for your iPhone but which do you pick? Here at Harper & Blake, we offer a range of different types of phone cases to fit your needs. Read our handy guide below to find out what's best for you. 
Slim Case
If you're looking for a slim and sleek design, our slim plastic cases are for you. Made of lightweight hard polycarbonate material, it won't weigh you down. This high-quality plastic is also durable and will protect your phone from falls and scratches. 
If you want to keep your phone slimline, light and more of the original weight of your device, we recommend our slim case for you. 
However, these slim cases are perfect for those who are more careful and not prone to dropping their phone. If you need added protection and are a bit more clumsy, we recommend our tough cases which we'll talk about next. 
Tough Case
If you're a bit more clumsy, then our tough cases are for you. Our tough cases are made of two durable parts, a silicone inner lining and a hard polycarbonate case that snaps around the silicone case. 
The silicone case wraps around your screen and camera on the back to offer a bit more protection to those who are prone to dropping their phone. This inner silicone case absorbs impact and will prevent unwanted bumps, scratches and cracks. 
On the bright side, we offer all our beautiful slim case designs for tough cases as well so you don't have to compromise between beautiful design and protection. 
However, this can add bulk and weight to your phone and are not for those looking to keep their device sleek and slimline. 
Shop our slim and tough cases here
Wallet Case
Want to combine your wallet with your phone? Our beautiful faux leather wallet cases are for you. Our folio cases include stitched pockets to store cards and cash and offer practicality to your everyday life. Our wallet cases also have a stand feature to make it easier to watch videos on your device. 
Our high-quality vegan leather has a soft and textured feel to your case that offers grip and flexibility but also impact-absorbing protection. 
Our wallet cases are perfect for those who want to add more practicality to your phone case. However, they will not provide as much protection as our hard plastic tough cases. 
Eco Bamboo Case
Bamboo cases are a new innovative, eco-friendly way of protecting your phone and for those who are more climate-conscious.
Made from high-quality bamboo, this flexible material will biodegrade in compost or landfill for 60-90 days. The natural speckled texture to your case also provides grip and is hardwearing from bumps and drops. 
While not as hardwearing as our hard plastic tough cases, these cases are more suited to those who want to follow a zero-waste lifestyle and are looking to reduce their impact on the environment. 
Whatever phone case you decide to get, here at Harper & Blake, we have a wide range of unique and hand-drawn designs to suit your style.