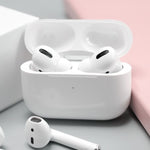 Can You Use AirPods with Android Phones?
Photo by Daniel Romero on Unsplash
Spoiler alert: Yes you can use AirPods with Android phones such as Samsung Galaxy and Google Pixels but there are limitations. They are in the end still Bluetooth earbuds so can connect to Windows laptops and pretty much any device that supports Bluetooth. However, you may not want to for several reasons we'll talk about below in this week's blog. 👇
How to connect AirPods to your Android
To connect your AirPods to your Android, do it as you do with any Bluetooth device. Press the white button on the AirPods case with the earbuds inside. Then, open your Bluetooth settings on your phone and select AirPods. As easy as that. 
Why you shouldn't use AirPods with your Android
It seems you should get into the hype of AirPods since everyone has them but should you if you have an Android device? While they do work, AirPods were specifically developed to work with Apple products. This means you will miss out on features that are for Apple devices only. With the number of features, you'll miss out on if you have an Android, it may not be worth it. These include: 
No Spatial Audio

 - Dynamic head-tracking technology that feels like the sound is coming from all around you. 

No Battery life status indicator

 - Apple devices provide on-screen and tonal alerts for when the AirPods' battery life is low

No Siri access 

- AirPods don't support Google Assistant 

No Ear Detection

 - This feature detects and automatically pauses your music when you remove an AirPod from your ears. Similarly, the audio resumes when you put the earbud back in

No 'Find My' function

 - This feature helps you find your AirPods if you lose them. This is not available on Android devices at the moment. 

No simple setup

 - Pairing with an Apple device only requires opening the case near said device and following a few easy steps. 

No automatic switching

 - AirPods are linked to an iCloud account for Apple users, which allows them to switch quickly between using AirPods with their iPhone, iPad or Macbook. 
Are the AirPods then worth it to you for the price tag if you miss out on so many great features? On top of that, you may get worse audio and battery life. It's worse value for money and there are many great wireless earbuds out there for Android phones. 
In the end, AirPods aren't bad for Android devices, they're just not a complete product. 
Here at Harper & Blake, we have a wide variety of AirPod and AirPod Pro cases for the latest models in unique, bright and colourful designs to keep them secure, safe and dirt free. With a silver carabiner clip, attach it to your keys, belt or bag for easy access. 
Shop the latest AirPod cases here
Other Blogs