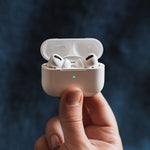 Can I charge my Airpods Wirelessly?
Photo by Omid Armin on Unsplash
Wireless charging has been around for a while now and is a truly convenient way to charge our tech without the hassle of cables and can look pretty sleek on your desk. Your mobile phone may be compatible with wireless charging but what about your AirPods? Read more about if you can change your AirPods wirelessly on this week's blog. 
What is wireless charging?
First of all, what is wireless charging? It's an easy and wireless way to charge your phone and other electronic devices. It works by transferring energy between the charging mat to a receiver at the back of your phone through electromagnetic induction. These normally only work when both your phone and charging mat are nearby of each other and aligned correctly.
MagSafe is the name of Apple's wireless charging accessory and is used for their iPhone, AirPods and MacBook. It uses a magnet to connect the charger to your device and keeps it secure and safe whilst charging. 
What AirPods charge wirelessly?
Apple introduced wireless charging with the second generation of AirPods. They introduced an option to buy them with either a wireless or non-wireless charging case. So, therefore, you can charge your AirPod generation 1 and 2 wirelessly, you just need the correct charging case. You'll know you have the wireless charging case if it has a small LED light on the front when it's charging. You'll just need a Qi-compatible charger, which is pretty much the standard for wireless chargers now. 
Both AirPod Pro generations are also compatible with wireless charging so no need to make sure you have the correct case. Wireless charging is already built it. 
The new AirPod generation 3 model is compatible with wireless charging but also Apple's MagSafe charging. It's now a standard feature so all cases are available with wireless charging, unlike generation 2. 
Therefore, yes, you can charge any of your AirPods wirelessly. If you have the AirPods generation 1 or 2, you just have to double-check you have the correct charging case and you're ready to start charging wirelessly. 
Here at Harper & Blake, we have a wide variety of AirPod and AirPod Pro cases for the latest models in unique, bright and colourful designs to keep them secure, safe and dirt free. With a silver carabiner clip, attach it to your keys, belt or bag for easy access. 
Shop the latest AirPod cases here
Other Blogs about wireless charging and Apple MagSafe 
Which iPhones work with wireless charging?
Can My iPhone Charge Wirelessly? | Your Wireless Charging Guide
What is MagSafe and Wireless Charging? | Your Questions Answered