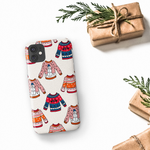 Design Spotlight: Our Soul-Warming Winter Phone Case Gift Guide
Yes, we're officially on Christmas countdown over here. Whether you're getting excited or trying to ignore the increasing festive hype, there's no escaping the fact that Christmas is around the corner.
From a design perspective, the winter season is another source of inspiration for us here at Harper & Blake HQ. We've been getting creative with colours and themes that all suit this most magical time of year. Here you'll find a pick of our favourites, ready for you to snap up now for yourself, or gift to someone you love.  
1. Winter Fox laptop sleeve
An evolution of one of our bestselling Autumn Foxes designs, the Winter Fox pays homage to the deeper hues and colour contrasts of cold nights. Championing the evergreen hues so synonymous with Christmas and setting our favourite fox within a snowy scene, this is a heart-warming design that will instantly bring some festive cheer.
Styling tips: Its festive tones will give you the edge with any outfit, any day of the week. Deep greens, popping orange and contrasting monochrome give it season-long versatility. You'll be tearing us away from this come springtime.
Available in: Our signature, hardwearing neoprene 13" laptop sleeve, snap or tough phone case and wallet phone case.
2. Winter Cabin wallet phone case
You don't have to stray too far from our crush on the Winter Foxes to end up at our Winter Cabin designs. Our line art creations feature our fox with traditional log cabin detailing, peppering this imagery across a single bold splash of background colour. Our favourite is the orange phone case in our wallet design.    
Styling tips: If bolder colours are your thing, opt for our orange designs, and if you prefer some tranquillity to your art, our seasonal powder blue spins will give you the right kind of chills.
Available in: Both orange and blue across laptop sleeves, wallet phone cases and our signature snap and tough phone cases.
3. Winter mountains phone case
Line art is one of our favourite ways to adorn our accessories, and we were especially inspired by the kinds of winter vistas you'll find in some of the most beautiful, natural spots. Our Winter Mountains design was an expression of this, with powerfully simplistic line-art depictions of rolling snowy hillsides, tucked away cabins and a smattering of evergreens.  
Styling tips:The pared down line art style with a soft lilac base colour gives our Winter Mountains design a wistful feel, and it can be paired with any outfit.  
Available in: A soft, dreamy hued purple phone case, wallet phone case or laptop sleeve. Buy one for your phone and laptop to synchronise your look.  
4. Northern Lights phone case
Nothing is more enchanting to us than the Northern Lights. A departure from our authentic line art designs, the Northern Light collection plays with different techniques to give you a striking mountain backdrop to a radiant splash of pink or green. Even better, even though this feels supremely seasonal, we'd sport this all year round.   
Styling tips: Ideal if you like to dress in moody tones and dark hues, but with its colour pops, it will work with anything in your wardrobe.  
Available in: Our Northern Lights pink phone case and green phone case, so-called for the splash of night-time colour on each design.
Got any questions? See our phone case FAQ here and don't forget to send us an email if you have any other questions!