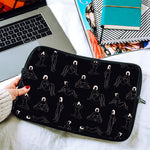 FAQ: How Should A Laptop Sleeve Fit? 3 Steps To Buying The Right Laptop Case
Finding a laptop that you love then discovering it doesn't fit your laptop is a minor annoyance we can all do without.
You'll find that most laptop cases are sold as a certain size, such as a 15-inch laptop sleeve, and the obvious approach is to go with the size of your screen and choose one that way. In reality, that doesn't always give you the right fit.
Here's how to sidestep that issue and find the perfect fit the first time.   
How snug should my laptop sleeve be?
You'll know straight away if your new laptop sleeve is the wrong size. If you can't easily get it into the case, it's too small, and if there is lots of excess space around your device, it's too big.
A laptop case should fit snugly and securely around your device, giving it protection from bumps, knocks and scratches. But to take the guessing out of your measuring up, here are three simple ways to find the right-sized case.  
1. Measure diagonally
You might think that knowing your screen size is a foolproof way to look for a sleeve. But this will often result in a case that's too small. Instead, you'll need to measure the entire laptop diagonally, including the bevel, which is the frame around your screen to get the actual size.
Using a measuring tape, simply place it in the top left-hand corner and stretch it to the bottom right-hand corner to get your actual measurement.
2. Check your laptop's thickness
Some laptop sleeves are made for thicker laptops, and some are made for slimline devices. Again, a quick measurement of your laptop with the lid closed will enable you to gauge whether your case will fit.
Close your laptop, find your measuring tape and just see how thick it is to figure this part out.
3. Look for something suitable for your make and model
Although most laptop sleeves are marketed as sizes, in inches, some are sold for specific models, such as a 13" MacBook Pro for instance.
Checking out the specifications in the product description is another quick way to see if the case will be suitable for your laptop. But remember, always cross-reference this with the two measurements you've already taken to ensure it's a match.
Shopping for the right laptop sleeve
Once you're confident in your measurements, you can enjoy the shopping bit of the process. There are a few different options when looking for the best laptop sleeve, and these can vary from more aesthetic to functional.
Generally speaking, laptop cases are designed to protect your device from accidental damage, and they are made from materials that do that by absorbing shocks and impacts and guarding against scratches.
Here are some options to consider:
Neoprene laptop sleeve – our Harper & Blake laptop sleeves are made from neoprene because they are proven to protect devices from minor accidental damage. It's also waterproof, durable and lightweight, giving it functional and made to last qualities.
Leather laptop sleeve – leather can be a good material for laptop sleeves due to its durability and water resistance. They can also look stylish, but just make sure they have cushioning layer to protect from impacts.
Designer laptop sleeve – something unique and sartorial will bring you joy as well as functionality. Our limited-edition designs are all created in house, and this makes them feel extra special.
Personalised laptop sleeve – aesthetic considerations include finding a favourite design or motif. You can also personalise yours from the more basic features, such as material, to adding your own imagery or design.