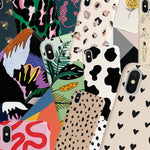 The origins of Harper & Blake
The origins of Harper & Blake
Ever wondered where our name came from?
It all started in 2014. Our founder Charlotte wanted to spend more time with her children after maternity leave rather than going back to a hectic full-time job. This is when she discovered Etsy and started designing hand-drawn art, printing it onto cases using a dye sublimation machine and selling them. Harper & Blake was born.
It was clear to Charlotte that there was something missing in the world of phone cases. It seemed that for a case to offer a good level of protection from drops and scratches, it had to be either dull and boring, or just plain ugly! There weren't any affordable options for the style-conscious when looking for reliable tech protection, but not for long. Our products are high quality, sturdy phone cases with drop protection that don't compromise on style.
A couple of years later, business was going so well that Charlotte found a UK-based printer, who could produce quality phone cases and prints on a much larger scale, giving us the time to focus on what we do best – design.
We grew our team and moved into our East London studio and, with contemporary and innovative designs at the forefront of our minds, we became inspired by the style of two very distinct personas – Harper & Blake.
Harper is effortlessly stylish – a minimalist who owns a stripped-back wardrobe of staple items and desires simple, chic pieces that can go with any outfit.
Blake, equally stylish, has a more quirky, colourful style and looks for statement pieces to transform and brighten up an outfit.
To this day, our designers still work with these two personas in mind to create the most unique and on-trend accessories. But, of course, Harper & Blake is for anyone! There's always room for styles to change and evolve; nobody must be either a Harper or a Blake. Our products give you the opportunity to express your own individuality and style.