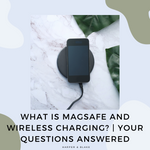 What is MagSafe and Wireless Charging? | Your Questions Answered
What is MagSafe? Does your phone case work with wireless charging? Do I need an iPhone MagSafe case to use their wireless charger? We'll answer all your questions below around the world of wireless phone charging ⬇
What is Wireless Charging and MagSafe?
Wireless charging describes it in the name! It's when you can charge your phone...wirelessly using a MagSafe charger or any mat you can find online. MagSafe is the name of Apple's wireless charging accessory and device and supports iPhone 8 Plus and onwards. 
There are industry standards with wireless charging, the most common is Qi. It is supported by all major companies, including Apple. 
However, only iPhone 12s have an added magnetic connection for better charging and attachment. 
Before purchasing a MagSafe or another brand of wireless charger, make sure your phone has wireless charging in the first place. Your Samsung phone may work with an Apple MagSafe but double-check before making a purchase! 
Do I need a MagSafe Apple Case to use their MagSafe charger?
No, you don't. Their iPhone 12 cases have an added magnet that helps align the phone to the MagSafe charging pad. You can use whatever phone case you like to charge your phone wirelessly. However, depending on the phone case brand, their case may not work with wireless charging to check so you don't have to take it off to charge. 
Do Harper & Blake phone cases work with wireless charging?
Yes! All our cases work perfectly with any Qi-supported wireless charger, including both phone wallets and our hard cases. 
Take a look at our range of phone cases, eco cases and phone wallets here. 
Remember to stay in touch to see what's coming soon from Harper & Blake. 
Remember to subscribe to our newsletter to get the latest news on our collections and exclusive discounts here