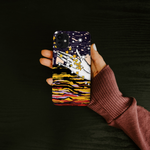 Our Essential Guide On How To Choose The Right Phone Case
If like us, you have an eye on sustainability and the environment, you'll know that the choices we make as consumers can make a difference. For some time people have been talking about conscious consumerism, which is essentially thinking about what we're buying and how we're disposing of it.
Phone cases are just one of those things you are choosing to add to your life. We believe that with a shopping list in your mind, you'll be able to pinpoint the right phone case that will bring you joy and won't end up in landfill within weeks. That's the aim, and here's our guide to phone case types to help you do it.  
Types of phone cases
What are the different types of phone cases? There are a few terms thrown around when you start your shopping spree, that's for sure. Ultimately, the names of phone case types tell you a bit about their features and the materials they are made from.
Before you even start browsing, there are a few questions you can ask yourself to whittle down your criteria. They include:
Do you need added protection for your phone? Or, to phrase it another way, are you often dropping and bumping it?
Is your priority to keep your phone's look and feel as close to the original handset as possible? And would you like to avoid adding a bulky case?
Are plastic-free, eco phone cases important to you? And do you like to change your phone case fairly regularly to suit your mood or the seasons?
Are custom made and aesthetic phone cases top of your wish list?
Once you know what you're looking for, you can start to shop in earnest. Let's run through the benefits and suitability of each main type of case.
The best type of phone case for protection
For those of us that regularly drop our phones, a tough phone case is the best solution. Tough or impact-resistant phone cases are usually made from a hard shell, with a rubberised inner layer that absorbs impacts.
Just like most hard phone cases, they snap to fit your phone, covering the back and adding extra protection to the buttons along the side. These cases are thicker, and they add some bulk to your phone, but if you want to steer away from unappealing aesthetics, you can still shop for tough phone cases in beautiful designs.
Headline benefits: best for people who drop and bump their phones often, with a dual-layer impact-resistant casing.
Hard phone cases
Hard phone cases have a rigid outer shell that snaps onto the back of your phone. They are very similar to your tough phone case, but not to be mixed up in terms of benefits. Their hard plastic layer, which is made from materials like polycarbonate, do offer some impact resistance, but not to the level of the dual-layer tough versions.
However, if you are careful with your phone and not a "dropper", these cases will enable you to keep your case more in line with the original weight and width of your phone make and model.
Headline benefits: the hard shell offers some impact resistance, but this is best for careful phone owners who like to keep their phone case slimline.
Soft phone cases
Soft phone cases can span a range of materials, including rubberised plastics and even leather. The benefits of these cases will vary depending on the type of material you opt for, but most give you a better sense of grip and flex as you use your phone day to day.
The reasons for choosing a soft phone case can range from keeping the case as snug and close-fitting as possible to preferring the tangible nature of a flexible material. Some soft cases are also designed to absorb impact damage and can give you both increased protection and a softer feel.
Headline benefits: different soft phone case materials have varying benefits, but ultimately any soft phone case will feel grippier and more flexible in your hand.      
Eco phone cases
An eco-phone case is an innovative way to protect your phone from accidental damage and care for the environment. Made from non-plastic, biodegradable materials like bamboo, they are designed to compost within short time frames. For instance, our bamboo phone case biodegrades fully within 60-90 days.
Like any phone case, eco-friendly options still give you a level of protection for your device, although they are not specifically designed to absorb greater shock levels. The main advantage of eco-friendly phone cases is their reduced impact on the environment.
Headline benefits: perfect for those who are climate-conscious and for people who like to change their phone cases often to suit their mood or current trends.
Custom phone cases
Custom phone cases allow you to personalise your phone case to suit you. This can come in the form of basic details, such as choosing a matte or gloss finish, right through to adorning it with your initials or your design.
This opens up the possibilities when choosing a phone case that'll you'll cherish and want to keep for the long run. And if the idea of creating a phone case design from scratch leaves you with choice anxiety, you can always search for limited edition designs that feel unique, and tailor them with the finer details like finish and material at the checkout.
Headline benefits: This allows you to personalise your phone case and will persuade you to keep it for longer, rather than replacing it within months.