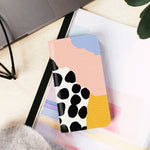 Why you should get a wallet phone case
Have you ever wondered what phone case is best for you? Everyone is different and needs different needs to aid them in daily life. A wallet phone case is a smart and functional way to protect your phone and store your loose change and cards. However, is it right for you? We'll detail below why we think you should get a wallet phone case. 
Security 
Having all your belongings and cards in one place is one way you can be more mindful of your important cards, ID and phone. Having everything you need in one will minimise your forgetting anything such as your phone, ID, cards or any cash since it's conveniently all in one place. Having this in your pocket by your side will reduce pickpockets since it's much harder to steal from your hip than from a bag. You're probably thinking the same, doesn't this mean it's also easier to lose everything at once? This issue can be easily resolved if you're mindful of your belongings and aware of areas where pickpockets are prominent. The same could be said about losing your bag or purse! 
Convenience 
Wallet phone cases offer the most functionality and practicality than any other phone cases. In particular, our folio cases include stitched pockets to store cards and cash and offer practicality to your everyday life. Having all your belongings in one place reduces carrying a bag or losing everything in it when you need to pay at the till. 
Protection 
Like with other phone cases, our wallet cases also add a layer of protection. They cover your phone screen which is the most sensitive place and reduce cracks that may occur when dropped. The extra bulk of your case from any cards and cash will absorb any impact from falls and drops. Furthermore, our vegan leather adds more grip and softness than other harder phone cases making them less slippery and prone to drops. 
Style  
Who said wallet phone cases had to be boring? Using vegan leather, we're able to print a large variety of colours and patterns onto it. Having bright and unique designs to fit your style and personality without having to compromise on protection or convenience is a massive positive for us. 
Variety 
We don't want you to miss out, so this is why we offer a wide range of devices for our wallet phone cases. We carry the latest iPhone models from the iPhone 7 Plus to the latest iPhone 14 series. Android user? Don't worry, we have models for the Samsung Galaxy S10 up to the Samsung Galaxy S22 range. Furthermore, with a wide range of styles and colours, there's something for everyone. 
Still not convinced? We also have a range of slim, tough and bamboo phone cases for those who prefer the hardback style. 
Here at Harper & Blake, we have a wide variety of wallet phone cases for the latest iPhone and Samsung Galaxy phones in bright and colourful designs. 
Shop our range of iPhone and Samsung Galaxy phone cases here
Related Blogs
The Differences between Faux Leather and Real Leather