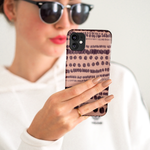 How to Clean your Mobile Phone Camera
Have you ever gone to take a photo of your dinner, a beautiful landscape or your pet and the photo is blurry and not sharp? It might be time to give your phone camera lens a clean. While cleaning the lens with your t-shirt may help temporarily, there are better things to do to keep your camera in tip-top shape and we'll detail them down below. 
What can I use to clean my camera lens? 
Like our phone screen, our phone camera also goes through a lot of trapped dust, dirt and grease from everyday daily use. It's vital to clean your camera lens regularly to keep it in great condition and to take great photos on your phone. Here are some of our suggestions for keeping your camera lens clean 
Microfiber Cloth 
Microfiber cloths are an easy and cheap way to clean your camera lens. You may already have one if you wear glasses. Make sure it's clean and gently wipe your lens in a circular motion to get rid of any fingerprints. 
Lens Wipe 
If your camera lens is greasy or too dirty just use a microfiber cloth and opt for a lens wipe. You can buy these for glasses and other optical products for relatively cheap and can give your camera a smear-free clean finish. 
Soft Brush 
If your camera is filled with dust then using a cleaning brush or clean soft makeup brush will brush away any loose dust or sand. 
What NOT to use when cleaning your camera lens 
We don't want you to damage your camera lens either so we've noted down what you should NOT use when cleaning 
Household glass cleaner & harsh chemicals 
Regular window and glass cleaners you can buy at the supermarket are too harsh for your delicate camera lens. Stay clear of these and use products designed for lenses. 
Rough cloths and paper towels 
They make look soft for some cloths, paper towels and tissues are rough and can even scratch your camera lens. These can also shed and leave your lens dirtier and dustier than before. 
Regular wet wipes 
While we recommended lens wipes, don't use regular wet wipes as these can smear and often contain softeners that can make your lens even more greasy. Use wipes only designed for camera lenses.  
Read our other guides on how to keep your phone clean and in tip-top shape 
How to Clean your Mobile Phone Ports
How to Clean your Mobile Phone Screen
It's as easy as that! Maintaining your phone and phone cases is important in increasing their longevity and effectiveness so keep them clean.
Here at Harper & Blake, we have a wide variety of phone cases for the latest iPhone, Samsung Galaxy and Google Pixel phones in bright and colourful designs. Best of all, all our designs are available for both slim and tough cases so you don't have to compromise protection for beautiful design. 
Shop our range of iPhone, Samsung Galaxy and Google Pixel phone cases here